We have a range of advertising opportunities within the centre and via our digital marketing platforms.
POSTER SITES
We have a number of six sheet poster sites strategically placed around the centre which are ideal for advertising your products and services. Please contact Airpod Media on 0113 815 2012.
---
BUSINESS OPPORTUNITIES
Whether you're looking to launch a new product, publicise your services, reinforce your market position or identify new customers, The Ridings' promotional spaces present an excellent opportunity with thousands of customers visiting every week.
Mobile Promotion Kiosk 
Mobile Promotion Kiosk (MPKs) are the contemporary alternative to pop-up. Find out how it can help your business by clicking here.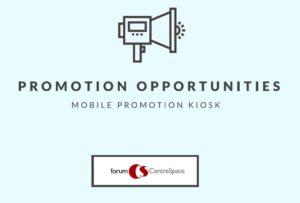 ---
BRAND PARTNERSHIPS
There are opportunities to engage with our shoppers, from live sampling and bespoke branding to radio competitions. For all commercialisation and advertising opportunities at The Ridings please contact:
Forum CentreSpace
Jill Southern
Tel. 0191 226 8844
jill@forumcentrespace.co.uk
---
SOCIAL MEDIA AND WEBSITE
The centre has an extremely strong following on our digital channels. If you have any offers or promotions that you would like featuring on our social media or website, please email artwork to info@ridingscentre.com