We have a range of advertising opportunities within the centre and via our digital marketing platforms.
POSTER SITES
We have a number of six-sheet poster sites strategically placed around the centre which are ideal for advertising your products and services.
For digital screen advertising enquiries, contact our media partners, Boomerang Media
Contact: sales@boomerangmedia.co.uk
Tel: 01252 368 368
boomerangmediagroup.co.uk
We also have a number of Toilet Posters sites available to rent, please contact
Simon Grant
Mobile: 07803 850 300
simon.grant@positivemediamarketing.co.uk
www.positivemediamarketing.co.uk
Positive Media Marketing Limited,
Media House,
714 London Road,
Leigh On Sea,
Essex SS9 3NL
Tele; 01702 474762 ext 2
Fax; 01702 477018
---
BUSINESS OPPORTUNITIES
Whether you're looking to launch a new product, promote your services, reinforce your market position or identify new customers, the mall space at Ridings Shopping Centre presents an excellent opportunity.

For further details please contact our commercialisation partners, Forum RCP:
07958 472034
07507 755 626
Mobile Promotion Kiosk 
Mobile Promotion Kiosk (MPKs) are the contemporary alternative to pop-up. Find out how it can help your business by clicking here.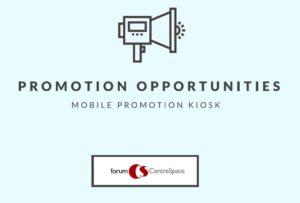 ---
BRAND PARTNERSHIPS
There are opportunities to engage with our shoppers, from live sampling and bespoke branding to radio competitions. For all commercialisation and advertising opportunities at The Ridings please contact our commercialisation partners, Forum RCP:
07958 472034
07507 755 626

---
ILLUMINATED ADVERTISING – BAY MEDIA'S AIRDRESSING®
Building on years of expertise and product development, Bay Media's AirDressing brings the largest raised illuminated advertising format to The Ridings, Wakefield.
AirDressing® utilises previously inaccessible spaces in atriums, the most visible space in the centre. Raised media has been shown to give advertisements a 2.5 x better memory recall rate, which is why all of Bay Media's products are raised.
Check the latest availability by calling 0208 343 2525
Or email tom.stewart@baymedia.co.uk