THE RIDINGS, GIVING A HELPING HAND, AND BEING AT THE HEART OF THE COMMUNITY
We're proud to be at the heart of Wakefield and work throughout the year to support a number of community initiatives, both large and small.
'Giving a helping hand' is about sharing what we have  with the community, spaces, visitors and expertise.
It is about learning who our neighbour is and about strengthening that fantastic community spirit that is all around us.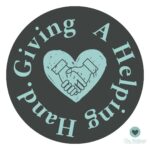 Some of our fantastic partners are:
---
Making a difference one space at a time.
Makey Wakey reinvigorates empty spaces within The Ridings shopping centre with temporary exhibitions, installations, studio spaces, and other not-for-profit activities.
We want to create a new kind of eco-system within the shopping centre environment that sees spaces used in a cycle of both community and commercial use. Get in touch 👉 HERE for more information.
Have an idea to make art, make change, make a difference? Then we might have just the space for you!
---
The Ridings Rooftop Mini Allotments
If you want to try growing your own food and would like to meet others who share the same interest, why not come along to the Grow Wakefield Edible Gardening Club held at The Ridings Rooftop Mini Allotments.
Grow Wakefield (formerly Incredible Edible Wakefield) turns unloved spaces into food growing places. It provided 22,000 hours of gardening to its members and groups throughout the district in the last year and has seen a marked increase in the number of people interested in growing their own fruit and vegetables. 
The local social enterprise, which is almost 10 years old, provides mini plots, tools and guidance for individuals and groups of all ages and backgrounds wanting to grow their own food.
It is looking for more offers of unloved space and funding from businesses and large organisations so itcan create more food growing places.

Plot holders can visit The Rooftop Mini Allotments in the Red zone car park anytime the centre is open and there is gardening advice and help every Tuesday 10 am until 12 noon.
Complete beginners welcome. For more information contact Andy on 07971 098510 or e-mail Andy@Grow-Wakefield.co.uk
Grow Wakefield has 12 edible gardening clubs throughout Wakefield district with over 100 plot holders and 10 edible community allotment gardens. it also has a number of projects and initiatives which range from community workshops to an urban harvesting group.  For more information log on to www.grow-wakefield.co.uk or follow Grow Wakefield on Facebook or Twitter.
---
Wakefield Street Kitchen
We are proud to be partners with Wakefield Street Kitchen who aare a community based kitchen, they offer a hot meal, pastries, snacks, sandwiches, as well as clothing toiletries and books to anyone in need with no judgement.
They also provide tents and sleeping bags for those that are homeless.
Everything is free to anyone who needs it….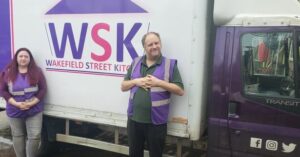 ---
MEN IN NEED TOGETHER
The Ridings centre are proud to have partnered with Men In Need Together.
There mission is to reduce suicide in men aged 18+ by providing a safe place for them to speak out without judgement. They began out of tragedy when a close friend Jack Bentley took his own life when things got too much. They wanted to make sure that no men went through the same thing and created something beautiful at a time of sadness.
They do all of this by providing free support groups each week for all men to attend and talk about their struggles in a peer to peer setting. Each group comes equipped with at least one facilitator who run's the group and directs the conversation and one counsellor who provides more in depth and professional advice and of course free refreshments!
They also provide free online support via our Facebook Page and sign posting to relevant organisations if specialist help is needed.
There goal is to have a free support group in every town and city throughout the UK to ensure that every man has somewhere to go if they need it and we are proud to be their chosen location in Wakefield, full details can be found here https://www.mintproject.co.uk/.
---
HIDDEN DISABILITY SUNFLOWER SCHEME 
The Ridings Centre are supporting the Hidden Disabilities Sunflower Scheme.
Not every disability is visible, and it can be difficult for others to recognise, acknowledge or understand the challenges faced when living with a hidden disability and wearing the Sunflower Lanyard indicates to people around you that help may be required.
We are giving away Sunflower Lanyards, to get yours visit the customer services lounge on the upper mall adjacent to Boots.
For more information on the scheme visit https://www.hiddendisabilitiesstore.com/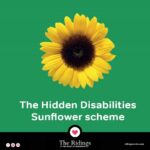 ---
TRUSSELL TRUST 
This winter, food banks in the Trussell Trust network are expecting to give out an emergency parcel every 9 seconds.
We don't have to live with this.
This year we've already made incredible changes to the way we live, work and look after each other.
And in the last few weeks we've seen incredible compassion and concern for families and children facing hunger following Marcus Rashford's campaigning.
With this winter set to be so busy at food banks, we now need to go one step further. That's why today we're joining the movement to begin building a Hunger Free Future. And we invite you to join too.
We know that with your support, we have a real opportunity to build a future where everyone has enough money for the essentials.
Visit trusselltrust.org/hungerfreefuture to help build a Hunger Free Future.
If you'd like to make a donation to the Trussell Trust text NEWRIVERDONATE to 70085 to donate £5
Texts cost £5 plus one standard rate message.