As I am sure you can imagine the raising cost of living presents a huge additional pressure to the Trussell Trust and Normanton Food Bank, who continue to deal with a record level of need for emergency food.

The Trussell Trust and Normanton Food Bank ( The Well Project ) are seeing a reduction in food donations and are beginning to see a shortage of volunteers as many are no longer able to offer their time or who are rightly advised to stay at home due to health concerns.
The only way that food banks will be able to support and protect those in the community needing emergency food is through the continued help from kind and generous donations from individuals such as yourself and local businesses.
You can help in 2 key ways:-
Food donations
Online: If you are home based or able to make an online donation then please check the website of your nearest food bank and check their opening times to arrange an online food delivery of their urgently needed food items
At the supermarket: If you are shopping at your local supermarket, please look to see if the store has a food collection point, where you can donate essential needed items. Ours is outside Morrisons on the lower mall.
To a local food bank: If you would like to deliver food in person please also use our search tool to locate a local food bank and contact them directly. https://www.trusselltrust.org/get-help/find-a-foodbank/
Cash Donations:
Individuals can donate through the Trussell Trust website https://bit.ly/2UDqTMt or via text (the image with all the details is below). The maximum single donation that can be made via text is £30 but there is no limit on how many texts we can receive.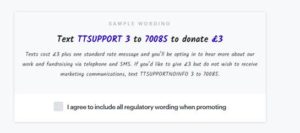 Please help where you can.