The Ridings Rooftop Mini Allotments
If you want to try growing your own food and would like to meet others who share the same interest, why not come along to the Grow Wakefield Edible Gardening Club held at The Ridings Rooftop Mini Allotments.
Grow Wakefield (formerly Incredible Edible Wakefield) turns unloved spaces into food growing places. It provided 22,000 hours of gardening to its members and groups throughout the district in the last year and has seen a marked increase in the number of people interested in growing their own fruit and vegetables. 
The local social enterprise, which is almost 10 years old, provides mini plots, tools and guidance for individuals and groups of all ages and backgrounds wanting to grow their own food. 
It is looking for more offers of unloved space and funding from businesses and large organisations so itcan create more food growing places.

Plot holders can visit The Rooftop Mini Allotments in the Red zone car park anytime the centre is open and there is gardening advice and help every Tuesday 10 am until 12 noon.
Complete beginners welcome. For more information contact Andy on 07971 098510 or e-mail Andy@Grow-Wakefield.co.uk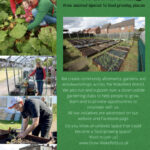 Grow Wakefield has 12 edible gardening clubs throughout Wakefield district with over 100 plot holders and 10 edible community allotment gardens. it also has a number of projects and initiatives which range from community workshops to an urban harvesting group.  For more information log on to www.grow-wakefield.co.uk or follow Grow Wakefield on Facebook or Twitter.